What does quality mean?
At Unigloves, when we ask our Distributors to define quality we find there are three main measures:
The ability to supply ongoing levels of demand
Order acknowledgement and deliveries made on time
Good levels of communication, keep us informed of any issues
The dictionary definition of quality is 'the non-inferiority or superiority of something.'At Unigloves we understand that the 'something' is related to satisfying our customers' expectations.
Why is quality important?
For PPE Distributors, time is everything and if the three main measures of quality, as defined above, are kept then less time is wasted at a supply level. This allows Distributors time for other, more important business and operational matters.
The choice between quality and price
There is rarely a single obvious choice when choosing disposable gloves from the myriad of options available – some of which may only differ slightly from the next. However, any variations, even minor ones, can quickly scale up over time and for the end user, can make a significant impact, especially if there's a significant sized workforce.
Apart from the essential technical factors and specific requests of end users, Distributors are often faced with the fundamental dilemma of choosing between better quality and lower prices.
On the surface, it may seem that choosing cheaper gloves would appear to be the logical choice.
However, from the qualitative research conducted it is clear that Distributors of Unigloves place the factors connected to quality above price as the costs of a lower grade of supply can be much greater due to the potential loss of business from an unsatisfied end user.
The benefits of a higher value solution
If you supply a higher value product solution it can usually be justified by the following reasons:
Continuation of supply
Delivery of the right product at the right time
Clear communication on order fulfilment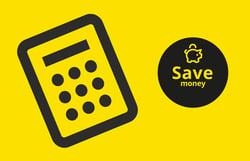 Glove value linked to quality
The table below shows an example of the cost saving per year that a mid-volume end user would make by using a higher-quality disposable glove that lasts 50% longer and costs 50% more. It's possible for end users to enter their own usage figures, so it's a useful demonstration to pass onto them.